I haven't been out fishing in almost two weeks thanks to work and my long "Honey Do" list. The good news is I made some decent progress on the house chores so I just might get to spend a few hours on the water this weekend. I'd like to hit the salt for some fluke or some striped bass especially after reading about the new Rhode Island state record Striped Bass that was just caught a few days ago.
This linesider was just a pound shy of breaking a world record and what was really amazing is that he also held the previous Rhode Island state record. Kudos to him.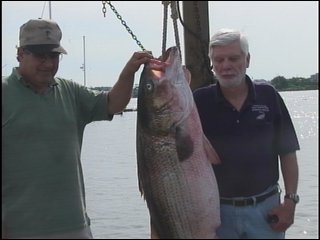 New RI state record at 77.4lbs
Make sure to check out the video of this fish at:
http://www.abc6.com
If that bass isn't enough to get he blood pumping how about a mountain lion hit and killed by a vehicle in Connecticut! Yup, that's right. Not a typo. There is actual proof that a mountain lion was in our state. Now DEP doesn't know if it is a wild lion or a released pet, but still there is actual proof.
Picture of the Mountain Lion hit by a vehicle in CT on June 11 2011
You can read the full story on
http://www.greenwichtime.com/
.
Of course the news of this mountain lion has spurred many more sightings with the latest one being in the town that borders the town I live in which is on the other side of the state from where the above lion was killed. I'm not sure how I feel about this just yet.
About 18 years ago I was driving home late one night from the fish and game club so take this into consideration as I claim to have seen a mountain lion cross the road in front of me but it was only for a split second or two and the only lighting was from the headlights on my truck. Now I'm not the only one to claim to seeing a mountain lion around here back then but until now there has never been any tangible proof. I'd like to see one in the wild, but I don't think I would like to know there are more out there as I am sneaking into my deer blind in the dark. The boogie man is scary enough and I don't need to loose my focus on him while worrying about a Mountain Lion sneaking up to give me a look over. What and amazing and beautiful animal but scary.
I know that today is the official start of summer as we enjoy the summer solstice and all, but Busch Pilot and I spent a hour discussing the up coming early goose season. Less then 80 days til the opener and lots to do.
I hope everyone is enjoying their summer and getting time on the water and in the woods because summer seems to go by way to fast as we get older so get outside and enjoy!